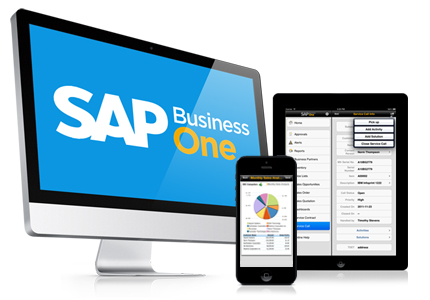 ---
SAP Business One

SAP Business One is one the best and comprehensive ERP Solutions to manage their entire business processes.
SAP Business One covers your end-to-end business processes and captures all information in a single system. It most effectively helps while making key decisions with real-time insights of all your business functions.
It helps you to streamline your processes by accessing your business information at any point of time with rich, intuitive dashboards and reports.
Finance & Accounting  – SAP Business One handles all your business financial transactions including general ledger, journal entries, adjustments and budgeting.
Bank transactions – cash receipts, cheque writing, bank transfers, deposits, advance payments,
credit card payments and bank reconciliation.
Sales – Manage all your purchase orders, delivery invoices, customer orders, quotation and accounts receivable.
Purchasing – Manages purchase quotations and orders, updating stock numbers, calculating landed costs for imported items, handling returns and credits and processing payments.
Integral customer relationship management – CRM to manage all your customers, suppliers and resellers
---
Key Modules in SAP Business One
Key Modules in SAP
SAP Business One provides all your key business modules out-of-the-box to manage them effectively.
Finance and Accounting
Bank Transactions
Business Partner Management
Receivables Management
Payables Management
Inventory Management
Ordering and Delivery
Client Relationship Management (CRM)
Sales and Distribution
Sales Opportunity Management
Stock and Warehouse Management
Purchasing
Reporting
Production
Material Requirements Planning
Outlook Integration
 Service Management
 Fixed Assets
 Human Resources Management
 eCommerce & Web CRM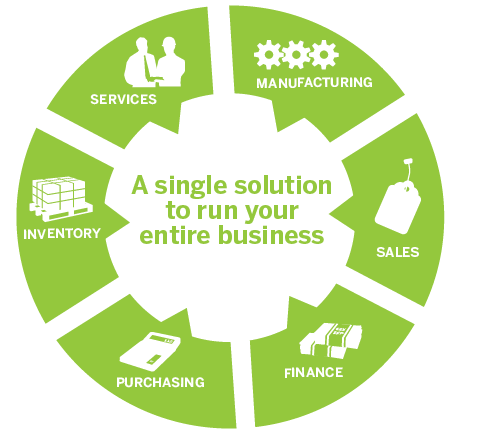 ---
SAP Business One Features

Improve efficiency for a better bottom line – Centralize and connect your entire business across sales, inventory, purchasing, operations, and financials  in one end to end solution, eliminating redundant data entries, errors, and costs

Focus on growing your business – Streamline operations from end to end, so you can focus on making your business more profitable

Make smarter, faster decisions – Put your business information into a single data source, so you can instantly drill down to complete, up to date information  and so your people can respond quickly to customer needs and be more empowered to make decisions

Get faster time to value – Be up and running within two to eight weeks with a single application. The intuitive user experience minimizes user training and reduces the cost of ongoing IT support

Support your changing needs – With easy to use customization tools and over 550 add on solutions provided by our software solution partners, SAP Business One can be flexibly tailored and extended to meet your specific business needs

Connect headquarters, subsidiaries, and business partners in one seamless network – Better serve your customers and gain operational efficiency with affordable, right-sized solutions to help manage information flow and harmonize business processes.