eNoah is a reputed global industry leader offering cutting-edge BPO and IT solutions worldwide. We provide best-in-class support services to Fortune 500 companies in the Integrated Health, Insurance, Manufacturing, and Automotive domains.
With strong domain focus, our uniquely designed solutions are vertically integrated and delivered through a client-intensive relationship-based global delivery model.
eNoah is ISO 27001-certified and HIPAA compliant. We enjoy repeating business from every one of our clients due to our uncompromising focus on complete client satisfaction. We achieve this through rigorously high standards for team expertise, emphasis on consistent quality, and strict adherence to punctual delivery schedules. eNoah's mature and established service delivery setup helps clients pilot business and IT processes with a focus on metrics-driven outcomes that exceed customer SLAs.
eNoah's guaranteed value proposition to our customers is:
Deep understanding and experience with offshore and outsourced operations, with mature transition capabilities
Ability to provide integrated offerings to client in both technology and BPO
Experience handling operations across multiple countries in a Shared Service Environment
People-centric HR processes
Ability to design and implement processes that meet the standards of SOX and ISO
An agile organization – reliable and scalable infrastructure & 1uality methodology
e

Noah Logo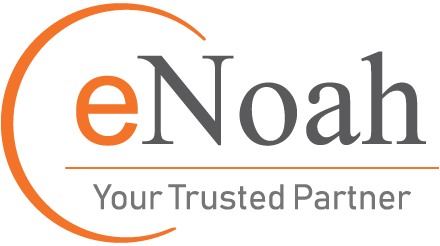 The semi-circle denotes, eNoah is poised for global market presence with focus on Customer centric solutions symbolically expressed like letter '

C

'.

Orange

color denotes the warmth, joy and creativity at work place for all
eNoah seen as a long-term partner whose contributions (solutions, products, insights, processes, etc.), are viewed as key to client's long-term success.
This is denoted by the placement of the company name 'eNoah' above the tag line 'Your Trusted Partner' signifying that fundamentally the tenets of trust is the foundation for our success.
Our Vision
To clearly reflect our core philosophy of traditional values, progressive ideas, and positive result-oriented action in our day-to-day operations, project implementations and industry  interactions
To keep our slogan "eNhancing Customer eXperience" as the ultimate driving force in all corporate activities
To continuously set the bar high for ourselves as a comprehensive customer-centric IT Solutions and business process improvement provider excelling in quality, reliability, and delivery
To support our client base in achieving phenomenal business transformation by utilizing all our resources to save them time and money
To provide an inspiring environment for all eNoah employees by setting benchmarks in employee care and corporate governance
To involve all our employees in community service projects that promote positive team-building spirit and simultaneously serve the communities where we are located
Our Mission
To consolidate our position as the Global IT & BPO service provider of choice
To cater to the entire breadth and spectrum of every client requirement, always striving to surpass expectations in quality and delivery
To increase our client's value proposition in the market by reducing cost, enhancing visibility and improving efficiency
Our Culture
eNoah's culture reflects the solid ethics and principles of the most established, respected IT and BPO companies worldwide. We are committed to accuracy, honesty, clear vision, superior solution-driven outcomes, delivering on our promises, and providing quality service with a smile.
What makes eNoah stand apart?
What distinguishes us from the crowd is that we consciously strive to form true partnerships with our customers through our reliable work ethic. You see, it's not just about us and our identity. It's about you – our valued client – every step of the way.This client-centric approach propels us to prioritize and understand your needs, execute them with consistent success, and surpass your expectations on every project.
This intrinsic culture of putting the client "first and always" sets us apart from ego-driven companies looking to 'get more business' for themselves rather than invest in enhancing the entire transactional experience.
eNoah's culture is based on the following key ethical principles:
Uncompromising integrity, transparency & maintaining our stellar industry reputation
Being an equal opportunity provider – we believe in diversity, inclusiveness and fair treatment to all employees
Flexibility and speedy response to meet the changing demands of new technologies for our customers/clients
Continuous self-evaluation and ongoing enhancements to improve business process efficiency
Incorporating best-in-class business processes practiced globally
Keeping the empowerment cycle in continuous play – our executive management team empowers our employees with the best infrastructure support. Our expert teams in turn, provide extraordinary service to our clients. This enables the clients' business to grow and generates positive feedback. Management passes on the rewards to our teams, motivating them to maintain and continuously improve existing quality client service standards. This leads to increased satisfaction and loyal relationship building.
Infrastructure
From quick response communication to data protection to security to expertise access or availability,  eNoah has all your Infrastructure Setup needs covered. Few companies goes to the extraordinary lengths we do to provide the depth of reliable and ready support services we offer our growing list of happy clients around the globe.
Power from two independent feeders at the regional public utility to ensure uninterrupted power supply
100% guaranteed 24/7 backup support from our standby captive power plant so work always proceeds and is completed on schedule
Scalable broadband connectivity – high-speed data / voice communication backbone by multiple service providers
Optical fiber cable support to manage large volumes of data
Provisions for ISDN and video conferencing with unlimited bandwidth
Dependable network of best-in-class business processes practiced globally
State of the Art access control, security and fire Alarm systems
Value Proposition
eNoah is a trusted partner who takes on and successfully fulfills the responsibility of providing improved risk mitigation, assured business continuity, minimal downtime, and secure integrity of customer data.
eNoah is committed to building an ongoing relationship with our clients and delivering value-added IT & BPO solutions backed by flexible and cost-effective support plans.
eNoah harnesses best-in-class frameworks and tools for quality and process management in the form of effective communication and easy-to-use, cutting-edge tools that respond to customer needs.
eNoah offers a full spectrum of solutions which dramatically increase your business revenue. Contact us for your unique IT or BPO needs.
eNoah delivers the capacity for a comprehensive service tailored to your exact requirements and provides the IT & ITES capabilities you need from concept to installation to support.
eNoah offers the highest grade professional technical skills and resources to empower your business to communicate, compete, and succeed in a rapidly changing world.
Why eNoah
We set our sights high and never get complacent about our milestones.We constantly strive to improve our services to our clients whether it's securing relevant industry certifications,achieving….
+
Our Team
eNoah's Executive Leadership team brings a collective wealth of Global Management experience ensuring extraordinary results for our roster of satisfied clients. Each of our key executives has received industry recognition…
+
eNoah CSR Activities
A number of eNoah's community development funding and enrichment initiatives are in place at different geographical locations. eNoah makes a conscious effort to assist with the community's….
+