Greetings from eNoah!
SAP Business One ERP Training is an initiative by eNoah iSolution, Coimbatore to empower SMEs to effectively use ERP to grow their business. This FREE ERP training workshop helps Small and Medium Enterprise companies to learn the world's best ERP SAP Business One with live demo and classroom session.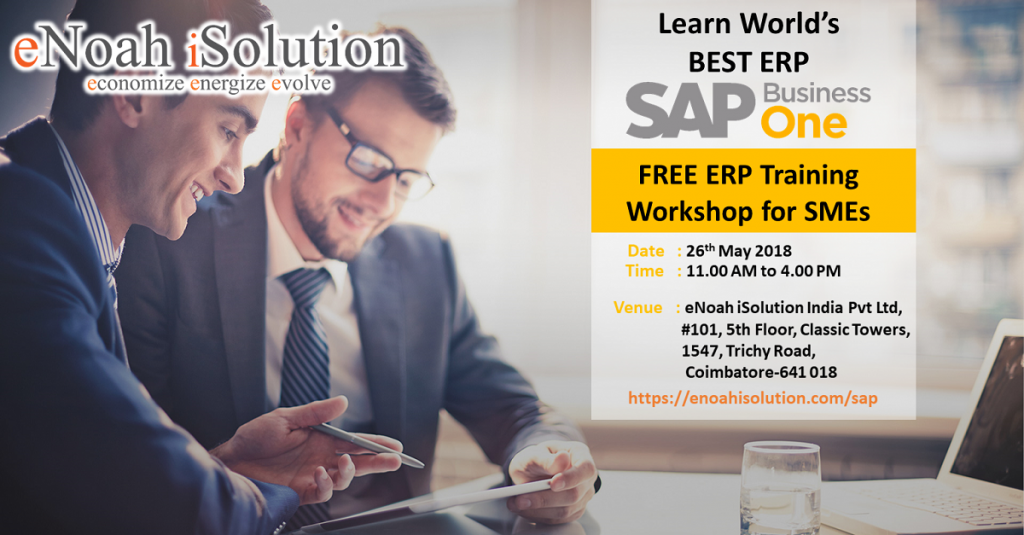 Training Agenda: 
How SAP Business One helps the small and medium enterprises
SAP Business One Overview
Purchasing – Procure to Pay process
Sales – Order to Cash process
Inventory Management – Bring down stock carrying costs by centralized inventory control
Production and MRP – Efficient Manufacturing to meet Customer Expectations
Financial Accounting And Control – Budgeting, Costing and Profitability Analysis
Date   : 26th May 2018
Time   : 11.00 AM to 4.00 PM
Venue: 
eNoah iSolution India Pvt Limited.
Classic Towers (Opposite to G.H ) 5 & 9th Floor, Trichy Road, Coimbatore – 641018.