eNoah conducts SAP Business One ERP Training for SMEs
SAP Business One training is an initiative to empower SMEs to become GST READY and realize their make in India dream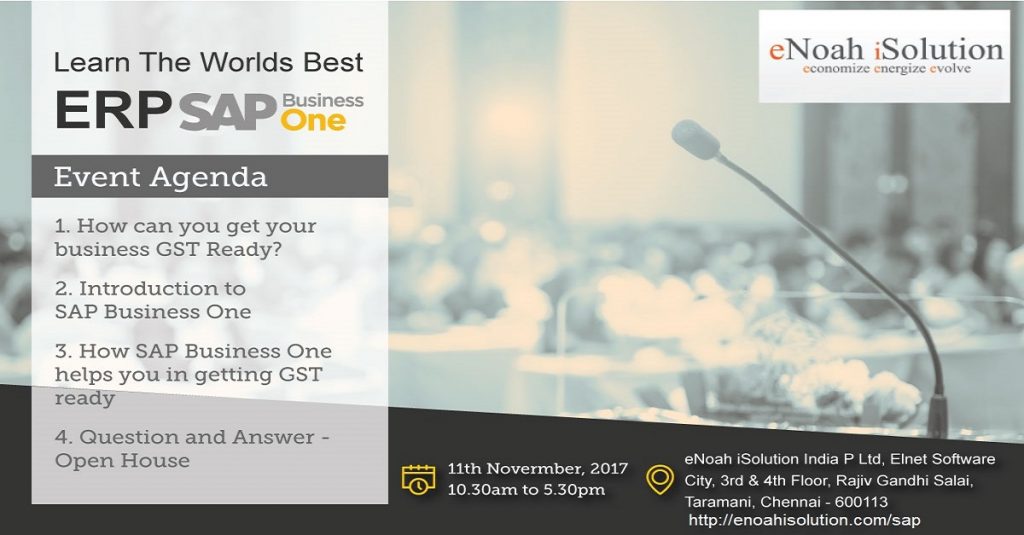 Reserve Your Seat For Free And see how you can set your SME GST Ready.
Training Highlight
Understand how to accelerate your journey to GST ready organization
Business process management: Procurement to Pay, Order to Cash, Inventory Management, Financial Reporting.
Classroom sessions, demos and simulator-based practice, scheduled on Saturdays.
You can access SAP Business One online training content from anywhere.
Training & Time
Saturday, 11th November 2017 – 10:30 AM to 5:30 PM IST
Training Venue
eNoah iSolution India P Ltd
Elnet Software City, 3rd & 4th Floor
Rajiv Gandhi Salai, Taramani
Chennai, Tamil Nadu 600 113