The focus of any industry in today's extremely competitive business environment is to maximize operational efficiency by emphasizing core activities and cutting out the tasks that drag down growth and profitability. Across the insurance industry, companies are actively implementing ways to maintain exponential business development. The core activity of the insurance sector is selling policies. Everything else is support. To remain competitive, insurance companies can leverage eNoah's insurance back-office support services to save on time, resources, and costs.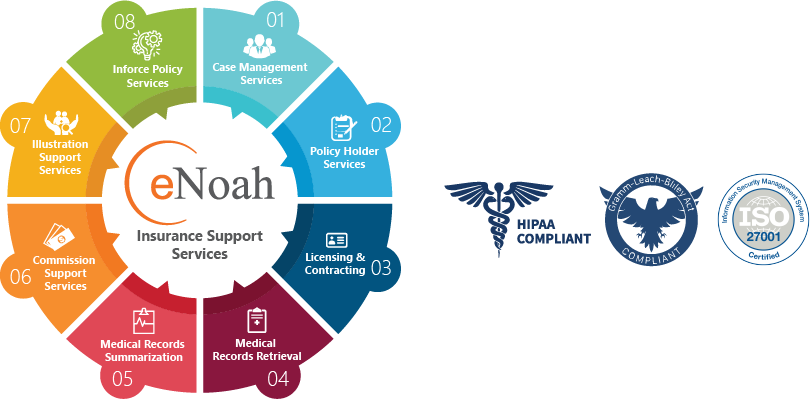 Here are 5 insurance back-office support services you can outsource to eNoah:
Processing Data and Forms: It is tedious and time-consuming to process the huge amounts of data generated during the life of an application. eNoah uses a range of experienced resources and cutting-edge tools streamlining the process, providing accuracy and improved cycle times.
Acquiring Medical Requirements: eNoah orders necessary medical requirements and does a regular follow-up to make sure everything is received in a timely manner, freeing your time to focus on core activities.
Policy Holder and In-Force Policy Services: Rather than being sucked into the black hole of policyholder services, let eNoah help you navigate the space. We can go through the time-consuming process of gathering policy information for you, procuring important data and presenting it to you in an easily accessible format. We can also make changes requested by policy owners (regarding changes in the method of payment, personal info, etc.) so you can keep your focus on your customers.
Illustration Support Services: Based on years of experience in the industry, we have the expertise to run all product illustrations from simplistic Term to IUL, VUL and Linked Benefit products including Riders. We do so tailor to your specific needs. For both Basic/Regular and In-Force illustrations, we can deliver reports within one business day, if not within the hour, allowing you to support the Sale and negate the onerous of spreadsheeting comparisons and running multiple variations.
Commissions Management: If you're struggling to distribute your agents' compensation on time, eNoah can help you improve cycle time and productivity. We can set up and maintain a module that generates accurate reporting on a regular basis, and we can deliver payments and statements to your agents, sales VPs, and sub-BGAs.
Across all these services, eNoah always aims to help clients improve profitability and maximize efficiency with high-quality solutions tailored to their unique needs. Reach out to us today to leverage our experience and support!