---
SAP Business One Cloud Solutions
You can get the power of SAP Business One on the Cloud platform, helping you minimize your IT setup costs and giving you access of your business information from anywhere, at anytime. It has a subscription based price model, where a subscription fee is to be paid based on demand, thus eliminating the need of up-front capital investment.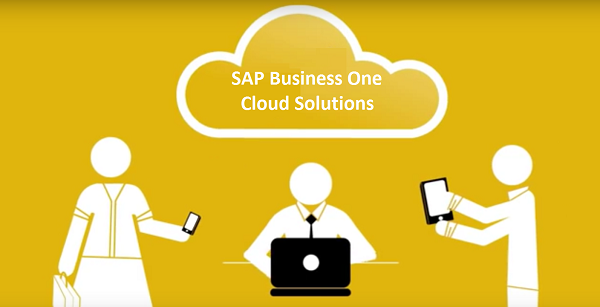 ---
Why  SAP Business One Cloud Solutions
Save Capital Expenses – You get all the features of SAP Business One on the Cloud without even deploying the software on your premises which results in effective capital expense management.
Less IT Infrastructure Requirements – One of the key benefits of SAP B1 Cloud is that you can save in cost of ownership, deployment, hiring experts and ongoing upgrade of your in-house software.
Subscription Based System – The Pay-as-you go-model will enable better planning of budget and will include all services like hosting, regular updates, support & maintenance and more.
Flexible to Use – It gives flexibility to your employees to work from anywhere through an internet connection and increases collaboration by allowing them to work on same documents simultaneously.
Any Time , Any Where – You can view real-time business information and dashboards from anywhere, allowing you to act quickly and take real-time decisions, which is very critical in this competitive environment.
Safe and Secure – Your information remains safe as it is stored on secure data centres instead of your company's server room saving you from losing it due to occurrence of sum unexpected event and interrupting your work.
Scalable and Cost Savvy – It provides scalability to your organization and improves flexibility, allowing you to grow without the need of buying costly software licenses. You can streamline your business processes, increase productivity with fewer people and get easy access to your information with minimal upfront cost.
Less IT Manpower Require – You are neither required to host, nor manage the solution yourself. This helps you to save money on IT, concentrate more on your business, take important decisions and run your business efficiently.
---
SAP Business One Cloud Advantage