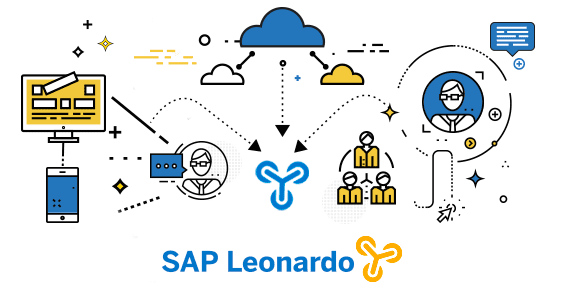 ---
SAP Leonardo

eNoah can help you achieve this dream for your company with the help of SAP Leonardo. This particular solution follows the design thinking approach and with this, errors can be reduced up to 90% as well as 30,000 data sets can be processed per second with high processing speed.
There is a fact that 77% of the world's transactions are happening through SAP every day. Existing SAP system being more successful, when combined with SAP Leonardo can further enhance your business, thereby, making it more profitable.
SAP Leonardo can be exclusively tailored based on the industry needs which can help you in the following ways: –
End-to-end visibility in your supply chain
Operational Excellence
Experience better profits
Understand the power of digitization
---
Powerful technologies to transform your industry
SAP Leonardo has extremely powerful technologies integrated under one umbrella making it stand out from its competitors, which will certainly help in reinventing your company.
SAP Leonardo, the world's only digital innovation system comprises of intelligent technologies such as: –
Machine Learning
Internet of Things
Big Data
Block Chain
Analytics
Data Intelligence
How does SAP Leonardo serve various industries?
After analyzing various industries and solving their business problems for around 45 years, SAP has used its abundant experience to create a digital innovation system for several industries. An appropriate kit for each industry has been developed with respect to their specific challenges and needs. SAP Leonardo has been designed to serve discrete Manufacturing (Automotive, Aerospace and Defense Industry, Medical Devices, Industrial Machinery, and components), consumer (Retail), service (Hospitality, Media, Professional Services, Facility Management), energy and natural resources industries and offers various benefits such as: –
Huge workforce employed to manage the fleet can be avoided with this advanced fleet management solution provided by SAP Leonardo in which technology is integrated with fleet insights. This system uses the geospatial data(GPS), analytics as well as sensors to provide the real-time status of overall fleet along with the status of each and every single vehicle, creating high end-to-end visibility which is very much useful for you and your customers.
Managing Services and Assets
Meet your customer expectations on asset availability and performance by leveraging sensor data analyzed by SAP Leonardo. This system creates operational insight through which service costs can be reduced improving the overall effectiveness and therefore, helps to find time for new services as well.
Logistics and Supply Chain Management
Manage your supply chain and production better with SAP Leonardo which helps you constantly monitor the real-time status of your product. Consequently, this leads to the improvement of inventory levels, reduction of logistics costs and on-time delivery of products.
Remotely manage your problems with availability of spare parts using the latest emerging 3D printing technology using SAP Leonardo. This particular cutting edge technology helps you to manage the spare parts inventory better, reduce the spare parts delivery time and costs as well as increases the customer satisfaction.
SAP Leonardo highly helps the enterprise to minimize the wastage, as this system takes the information about the product, marketing campaigns, external events and also the expiry date to accurately forecast the number of units that will be sold. Consequently, this prevents loss due to wastage and makes the company highly profitable.
eNoah- A Successful SAP Business One and HANA Partner
eNoah has embedded the slogan "eNhancing Customer eXperience" in its heart when it comes to serving all its customers, which has turned us into a reputed global leader with more than 12 years of experience in satisfying customers and making cutting-edge IT solution based products.
Therefore, we can thoroughly understand all your industry-specific needs and challenges in order to tailor the solution according to them. we can very well create the prototype solution using SAP Leonardo and can also involve in implementation if required.
eNoah will also provide extended support by helping you understand the entire benefits offered by SAP Leonardo in terms of costs, efficiency, supply chain management, data processing, etc.
Hence, you can simply choose eNoah because: –
Consists of 50+ Customers and 700+ Users
Target over 20+ Industries
15+ Years of Experience
Availability of Certified Consultants
Global Presence in 6+ Locations
Working with eNoah, you can obtain a clear picture of how to revolutionize your industry to achieve operational excellence and make great profits by fully understanding the power of digitization.