Quality is paramount at eNoah and drives every project or product we undertake.
We set our sights high and never get complacent about our milestones.We constantly strive to improve our services to our clients whether it's securing relevant industry certifications,achieving compliance or offering the best in Data Analysis and Data Security options.
ISO 27001
eNoah is an ISO 27001 certified organization. We have defined several ISMS Policies and Procedures,maintaining strict compliance to assure our clients of the highest quality standards. Being an IT and BPO company, Information Security plays a key role.Fully compliant with ISO 27001, we handle our Clients' sensitive information needs with utmost privacy ,security and confidentiality.
eNoah's rigid adherence to data protection, privacy and IT governance regulations especially for our list of Financial and Health Care industry Clients has yielded guaranteed Returns on Investment for them. Our stringent standards are carefully designed to prevent security breaches. We have clear-cut demarcated role delegations and assignment duties for Information Security Systems which help strengthen team expertise within our Organization ensuring Quality supervision for you.
HIPAA
eNoah is thoroughly compliant with all aspects of HIPAA(Health Insurance Portability and Accountability Act). In our experience working with several Health Insurance Industry Clients we ensure that all requirements related to health information are comprehensively followed. Every one of eNoah's dedicated agents carefully handle Patients' Personal Health Information(PHI) with utmost care. Senior Management and auditors stick to corporate HIPAA compliance without exception. You can rest easy your company's security is safe in our hands and place your full trust in our foolproof security measures.
QMS
As a superior Customer Service Oriented Organization, Quality and On-Time Delivery is our primary driving force to achieve Client Satisfaction. We created the Quality Management System(QMS) in response to our mission. Our Robust Quality Management System is the cornerstone of our Quality-centric organization. And you, our client is the direct beneficiary. Our IT Delivery Team religiously follows Procedures/Guidelines/Manuals in every phase of their delivery life cycle to meet with all your requirements. This has proved to be a time tested and efficient methodology in achieving project milestones at optimum costs.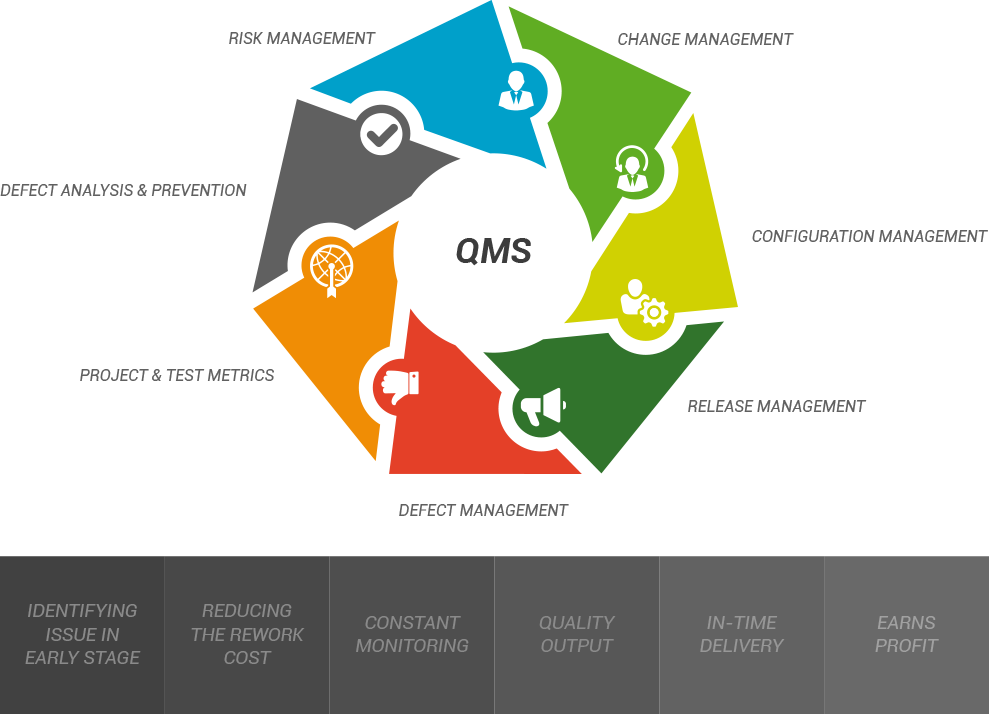 eNoah iSolution is an Innovative, Leading-edge BPO and IT Solutions Provider. We are proud of our rapidly expanding global presence and hard working reputation as  an industry leader offering exemplary best -in-class services to our Fortune 1000 clients in the Integrated Health, Insurance, Manufacturing and Automotive domains.
With precision focus and rock- solid commitment founded on a combination of extensive knowledge and expert experience, our uniquely customized solutions are vertically integrated and delivered through a client intensive relationship based on a worldwide delivery model.
Our goal is to set and meet the highest standards of excellence in actualizing client service expectations with every project we undertake or product we develop.
Our commitment is to engineer solutions guaranteed to yield optimum returns on your valuable investments.
Why eNoah?
The answer is simple. Many companies boast multiple BPO and IT service offerings but upon closer inspection, few present the extensive range of truly customized solutions based on experience backed by solid credentials that we do.
Certifications : eNoah is ISO 27001 certified AND fully HIPAA compliant.
Our expertise is vast and our talented teams rigorously trained to cater to the highest expectations and standards of our BPO and IT Industry clients.
We are sincerely committed to building lasting,long term relationships focusing foremost on total client satisfaction.We achieve this in four ways for you:
competitive pricing
accurate project estimates
perfect work quality
punctual delivery schedules
eNoah's mature and established service delivery setup is designed to help clients pilot and steady state processes with the focus firmly on metric driven outcomes that exceed their customer SLAs.
eNoah's Value Proposition to Customers:
In depth understanding and extensive experience of offshore and outsourced operations, with mature transition capabilities.
Ability to provide integrated offerings to clients, both in technology and BPO.
Experience in handling operations of multiple countries in a Shared Service Environment.
People-centric Human Resources processes.
Proven ability in designing and implementing processes to meet the exact standards of SOX and ISO.
A flexible, progressive, and agile organization featuring Reliable and Scalable Infrastructure & Quality Methodology.
Round the Clock Service
Our team operates 24/7 from state-of-the-art facilities that are strategically located in the prestigious "IT corridor" enclave in Chennai, India known as Elnet Software City.