Loan Underwriting Services
Easy, reliable, affordable – with years of experience in the financial industry, eNoah enables lenders to optimize productivity and streamline costs with the right people, right processes, and right technology.
With our end-to-end understanding of underwriting processes and our broad spectrum of support services, you can scale for growth and improve profit margins. By outsourcing processing tasks to eNoah, your staff can focus on critical functions, while we take care of your back-office support tasks. We provide services across the lending value chain, from origination and fulfillment to secondary marketing and servicing.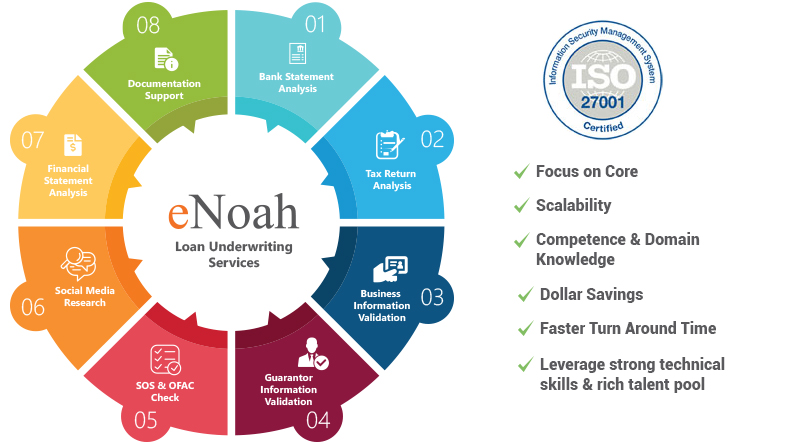 Talk to us to know more about our Loan Underwriting Services!
eNoah provides pre-underwriting services for leading financial services companies. Our specialists can input, update, and validate borrower and guarantor details (including but not limited to banking information, financial statements, and credit score information).
This data can be input directly to your system, or analysts can prepare a completed documents folder for your underwriters. We can carry out the entire pre-underwriting process with professional expediency and precision while reducing your costs.
eNoah's infrastructure and processes are HIPAA, GLBA, and ISO 27001 compliant, operating in a secure environment where your clients' personally identifiable information is protected.
Value Proposition
Our professional and courteous pre-underwriting service specialist team is comprised of qualified graduates in finance discipline. Our analysts are experienced professionals with backgrounds serving some of the fastest growing financial services companies in the US. They will work whatever business hours are best for your business, communicating via online chat, email, and phone whenever needed.
Reduce Cycle Time
Reduce Overhead
Reduce Cost
Improved Profitability
Improved Process Efficiency
Improved Cashflow
Turnaround time for the vast majority of underwriting tasks is two business hours, depending on the complexity of the job. Almost 98% of the orders are completed during the same business day. Day-end orders are delivered before the start of the next business day.
Contact Us to know more about free trial and rates

Loan Underwriting Services
Our experienced analyst can handle end to end pre-underwriting of loans which includes Cash flow analysis, Business & guarantor info validation, Credit appraisal, tax return analysis, Social Media research, SOS & OFAC check, Financial statement analysis etc
Our analysts summarize results of the review for the underwriters to make decisions
eNoah analysts ensure that client's underwriting team focusses on functions that are more critical

Bank Statement Analysis
A dedicated specialist will complete a detailed analysis according to the client's specifications including, but not limited to, Deposits – Total & Backed out, Itemized adjustments, Negative days, OD & NSF fee, Existing debt payments, unusual transactions etc.
Our team has been trained to identify fraudulent/manipulated statements. We have processed statements of close to 2000 different banks

Loan Setup in CRM
eNoah can setup loans in client's CRM using the signed application & supporting documents provided by the brokers and sales team
Our team can correspond with brokers & sales to ensure that all compliances are in order.
If required, the team will contact Broker/Sales team for missing information
eNoah fills all the mandatory fields in the CRM before it is time to set up the loans

Servicing, Collection & Review
Early and overdue collection calls
Asset management
Overdue payments processing
Accounting and reconciliation
Mortgage Insurance
Appraisal report review
Unique Engagement Model
Fractional FTE at Attractive Cost
eNoah has tailor-made programs with partial resources who are trained for both business functions. You only pay for half FTE to handle the transactions.
Hybrid Model
If your volumes are between half FTE and full FTE,  with our unique engagement model, you will pay only for half FTE with transaction-based pricing.
Contact Us to know more about our Engagement Model!
Tools and Reports available – eTouch at a glance
We provide easy tracking and visibility through dashboards and reports.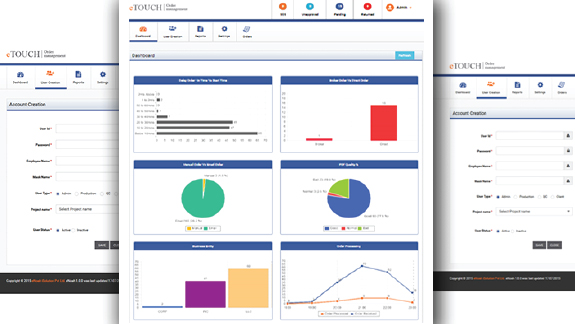 CRM
Third Party Credit Reports
Experian
D&B Credit
Lexis Nexis
MicroBilt
Equifax
UCS
Paynet
TaxGuard
Other Reports
OFAC
Google Street View
FFIEC
REDFIN
Melissa
Office 365
Yelp
Zillow
File Sharing Applications
Dropbox
Onedrive
Google Drive