Independent Testing Services
eNoah's experts understand that independent software testing is a vital business-enabling function within any organization undertaking critical transformation programs. Companies often encounter the regular phenomenon of software development life cycles crashing and feel constant pressure to release products faster. Testing practices have thus become absolutely critical to ensure that applications /products release on time, within budget but without compromising on optimum software quality assurance.
Software Testing & Quality Assurance
With the need for more robust and reliable software, testing has become a vital part of the Software development life cycle and a specialized function in itself.
Our rigorous and reliable Selenium Testing processes play a crucial role in your program assurance activities, help achieve lean IT operations, provide business enablement and also control the Total Cost of Ownership.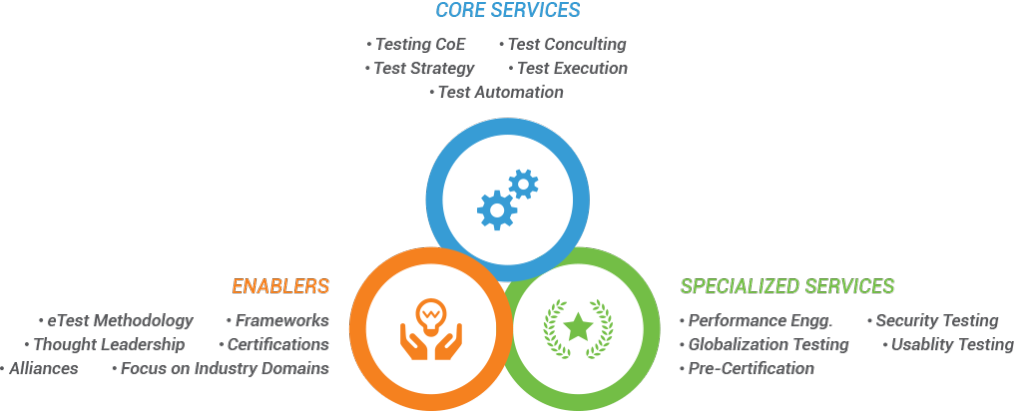 eNoah's team leverages our considerable IT expertise to unearth software defects as well as deftly utilizes our BPO expertise to bring efficiency and accuracy into testing services. Our capabilities extend from traditional system and regression testing to complex services. Expertise in both business and technical sides of testing has enabled us to create innovative approaches that deliver accelerated results. We use an established testing methodology and employ stringent industry standards.
Every one of eNoah's robust testing processes, specialized tools, and consulting expertise enhances testing efficiency and precision, reduces costs and decreases cycle times for you.
All the Testing tools we use at eNoah leverage established methodologies to provide your organization with superior software quality, enhanced business readiness, and real competitive advantage. Our end-to-end testing approach includes testing strategy, execution, and management across a variety of industries and products.
Testing and Quality Assistance Consultancy is available in the following areas
Test and defect management
Test environment management
Process governance & change management
End-to-end testing frameworks
Independent test and acceptance services
Application and integration testing
Performance, stress and load testing
Regression testing
Automation
Manual Testing
Test tools evaluation
Test data generation
On-demand performance analysis and architecture to improve product performance
On-demand capacity planning and sizing assistance
Deep expertise in proprietary, Open source (e.g. JMeter), and third-party tools (Load Runner)
Repeatability of tests and results
Testing Types
Load Testing
Reliability Testing
Scalability Testing
Stress Testing
Functional Testing
Integration Testing
Concurrent User Testing
eTest's Compatibility
Web – based Test Automation Tool – Selenium and Sahi
Scalable to Quick test pro that can also be implemented in a non-web based solution
Performance Test Framework – JMeter and Push-to-Test
Quick Quality Test Process
Winrunner
Neo load